LEBANESE LAMB FLATBREAD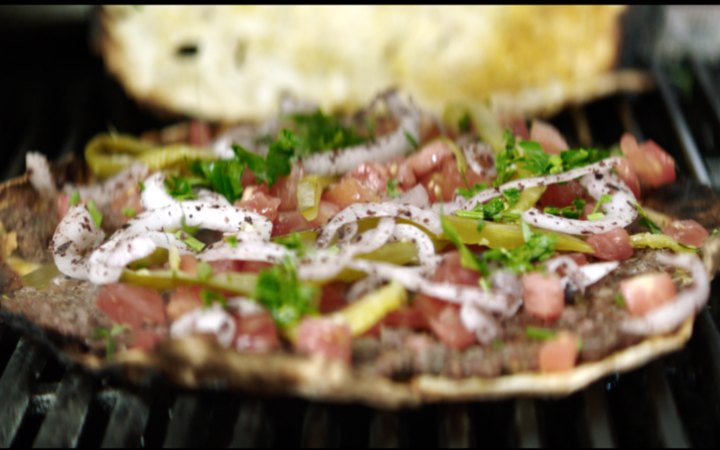 INGREDIENTS - FLATBREADS:
4 flatbreads
500g minced lamb
1 small red onion, finely chopped
4 cloves garlic, minced
Zest of 1 lemon
4 tbsp fresh mint, finely chopped
1 tsp coriander
1 tsp cumin
1 tsp oregano
1/2 tsp cayenne pepper
Salt and ground black pepper
2 tbsp olive oil
1/2 red onion, finely sliced
300g cherry tomatoes, cut into quarters
1/2 cucumber, chopped
120g feta cheese, crumbled
Tzatziki (additional recipe below)
Handful of fresh torn mint
INGREDIENTS - TZATZIKI:
225g Greek yoghurt
Half a cucumber peeled and grated
Juice of 1 lemon
1 clove garlic, minced
2 tbsp fresh mint, finely chopped
Pinch of oregano
Salt and ground black pepper
METHOD - FLATBREADS
1. Mix together the minced lamb, onion, garlic, lemon zest, mint, coriander, cumin, oregano, and cayenne pepper in a bowl. Season.
2. On a medium to high heat setting, heat the oil in large pan. Brown off the lamb mixture, all the while breaking down with a spoon or spatula until fully cooked.
3. Preheat oven to 190 degrees. Cook flatbreads for 2-3 minutes, until lightly toasted and warmed through.
4. Top with the cooked lamb, sliced onion, tomatoes, cucumber, and feta. Top generously with tzatziki and garnish with fresh mint.
METHOD - TZATZIIKI
1. Soak up excess moisture from the cucumber by patting dry with kitchen roll or tea towel.
2. Mix together yoghurt, 3 tbsp of the grated cucumber, lemon juice, garlic, mint and oregano. Season to taste.