SAUCY PRAWN NOODLES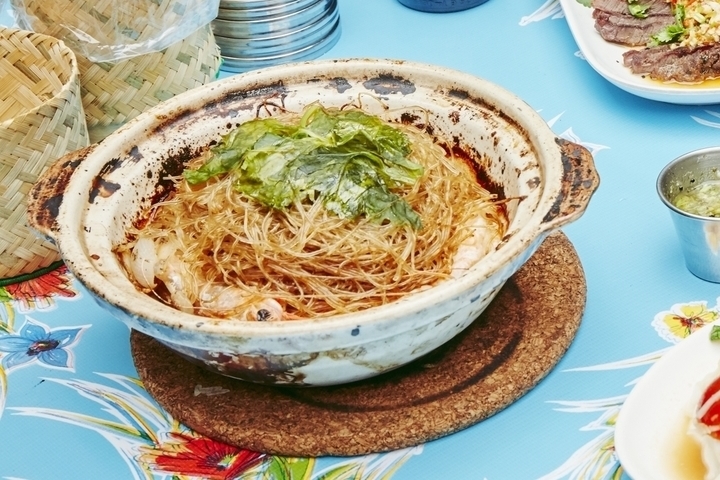 INGREDIENTS:
4 tbsp light soy sauce
4 tbsp oyster sauce
2 tsp dark soy sauce
4 tsp sugar
2 tsp sesame oil
250 ml chicken stock
160g noodles of your preference
12 whole large prawns.
4 tbsp vegetable oil
½ tsp of peppercorns
4 garlic cloves
1 thumb sized piece of ginger, sliced
Handful of fresh coriander
Handful of celery leaves
METHOD
1. Cook noodles according to packet instructions but for half of the time advised (you just want to soften them).
2. Mix together light soy sauce, oyster sauce, dark soy sauce, sugar, sesame oil, and stock until all the sugar has dissolved.
3. Add the prawns and noodles to the sauce mix, coat well and leave.
4. Using a pestle and mortar, grind the peppercorns to a fine powder. Add the garlic cloves, smashing into pieces. Add half of the fresh coriander and celery leaves, and bruise.
5. Heat the vegetable oil over a medium heat in a heavy bottomed pan, then add the mix from your pestle and mortar along with ginger slices. Heat until sizzling.
6. Then add the noodles with all the sauce from earlier. Placing your prawns on top. Cover and cook until the sauce is boiling. Lower the heat and cook for a further 2 minutes.
7. Stir well, then place back the cover and cook for another 2 minutes or until the prawns and noodles are cooked and the sauce has thickened.
8. Either serve in the pot or divide between bowls. Top with the remaining fresh coriander and celery leaves.